Die Szene mit Edward und Renesmee am Piano, über die wir berichteten ist im Kasten!
*klicken für größer*
@NessieMackenzie:

Edward/Nessie Renesmee's lullaby piano scenes have been shot!

:) Cannot wait to see BD part II!
Und Mackenzie Foy hat ihre Kollegen mit Valentinstagskarten überrascht und Taylor bekam einen Geburtstagskuchen!
Breaking Dawn actor, Ben Jeras tweeted:
"Between Taylor's Birthday cake, the Rosemary- Blueberry Creme Gelato from the ice cream truck outside & my valentine from Mackenzie Foy, today was a GREAT Day!"
It seems like Valentines Day started a little bit earlier for the Breaking Dawn cast.
There's no doubt Mackenzie loves being on set, and she enjoys working with the Twilight people. And there's no doubt the cast adores Mackenzie as well! Every time a cast member is asked about Mackenzie Foy they answer with a praise. As some actors are leaving Baton Rouge today, our little Mackenzie decided to make sometime special for them:
She gave the whole cast Valentines cards.
How cute is that?!
Like someone said on twitter " I'm guessing Mackenzie was Robert's first Valentine this year" Can you even imagine that *CuteNonScreenFatherDaughterMoment* moment when she gives him the present? CUTENESS OVERLOAD <3
Neue Bilder vom

Breaking Dawn Set

...
Und wer sich schon öfter mal die Frage gestellt hat, wieso die Twilight Saga Filme eigentlich nicht in
Forks
gedreht werden --->
TwilightLexicon
Fans treffen den Cast in Baton Rouge...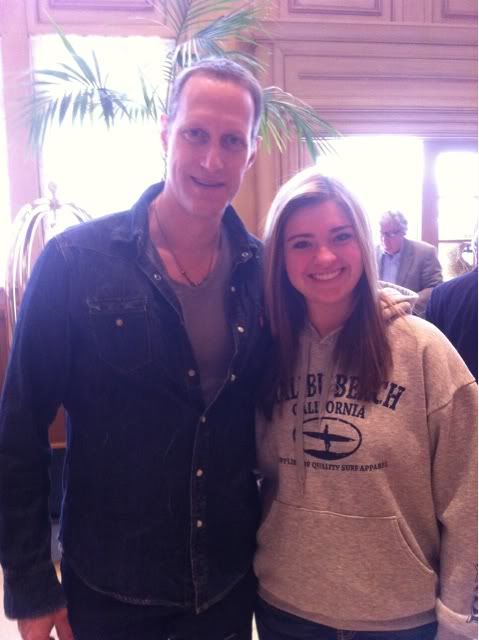 Tweets
TTOBR

Rob and Kristen WERE on set today... Taylor had a cake... on set... and a big scene was shot!

What more could we ask for? Maybe hitting up our Event to benefit OLOL Children's Hospital next Sat?!?! LOL. Night peeps! ;o) Tweets
benjeran
Thanks for all the love & responses. A great shoot in BR and look forward to work in the near future. & YOU guys entertained me on set. thx
Last day on BD set in BR

! Mood: Bitter Sweet
peterfacinelli
Just landed in LA. Have a

small break in filming.
MyannaBuring
AAARGH -

packing

and I just can't understand how I've accumulated so much stuff!
Was schönes zum Schluss...