Kristen soll im Frühjar 2012 auf so was Ähnlichem wie einem russischen Filmfestival?! wenn man so will, für Snow White in Moskau erwartet werden. Frühjahr ist ja jetzt relativ-meint man damit schon März oder April oder doch erst Mai?! Ich meine die Promo für SWATH wird denk ich spätestens im Mai beginnen. Wir werden sehen.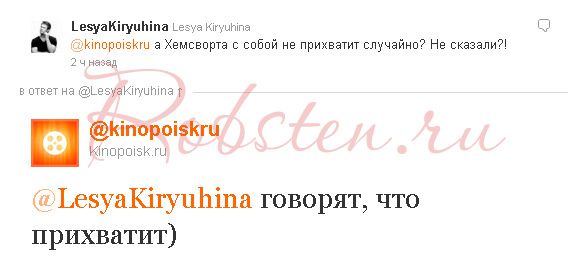 December 7. Moscow. Expocenter.
The presentation of Universal studio
in 86th Russian international expo for filmmarket.
Universal announced
that Kristen Stewart is expected for the premier of Snow White and the
Huntsman in Moscow in spring 2012. Kris Hemsworth is also possible.

There was shown the international trailer of Snow White and the
Huntsman. American trailer has been more stylish. But international
isn't bad .