Uhhhhhh!!!!! Das ist ja mal mega süß!! Hier sehen wir Kristen zusammen mit Bear unterwegs in New York. Bear ist der Hund von Rob UND Kristen, mehr oder weniger bestätigt wird das, wenn man den Aussagen einer Person
(victoria1985
) traut, die sich mit Robs Dad während der Aufnahme zur Regis&Kelly Show unterhalten hat...
Also ich muss sagen: der Hund ist einfach meega niedlich und ich find es toll, dass die beiden ihn gemeinsam adoptiert haben und somit für ihn Verantwortung übernehmen ;) Und Kristen sieht einfach wieder mega klasse aus in ihrem eigentlich so einfachen Outfit...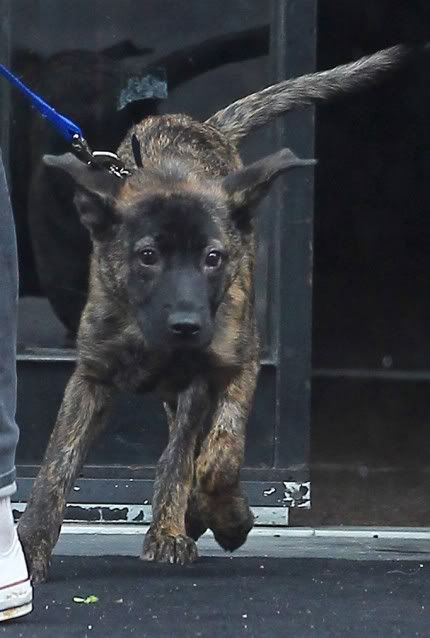 via CelebrityGossip
Braving the rainy conditions, Kristen Stewart was spotted walking her newly-adopted dog Bear in New York City today (May 4). The "Adventureland" actress looked hip in a black jacket, blue v-neck, skinny jeans and white sneakers as she held Bear's leash in one hand, and a shopping bag in the other.
On Monday night Kristen joined a plethora of big name celebrities at the 2011 Costume Designers Met Gala.
via
victoria1985
More about Bear
Tim3toLove
"About Bear : "It's both Rob and Kristen's dog. According to Rob's dad, they adopted him together.My friend and I spoke to him when Rob was taping at Regis and Kelly and he told us that Rob and Kristen adopted him."
As per
AlineTeston
rinny112 at kstewartfans
via
Robstenation